Thursday, January 9, 2020
To help you have a good time listening to French while viewing A-Level related topics, I've listed here some movies you can watch on a popular streaming service: I named UK Amazon Prime video (films are Included with your Prime Membership if you are used to get packages delivered this way; So nothing to pay in addition).
Samba
Imdb 6.7 Durée: 1h 58min 2014 sur Prime Video (15)
Samba migrated to France ten years ago from Senegal, and has since been plugging away at various lowly jobs. Alice is a senior executive who has recently undergone a burn-out. Both struggle to get out of their dead-end lives. Samba's willing to do whatever it takes to get working papers, while Alice tries to get her life back on track until fate draws them together.
Acteur: Omar Sy
d'origine mauritanienne et sénégalaise
Les hommes du feu
update 19/01: not in Prime anymore
Imdb 6.1 Durée: 1h 33min 2017 sur Prime Video (15)
Philippe, runs a fire brigade barracks in the South of France. During a summer-long heatwave, blazing fires spark up all over the countryside, some more suspicious than others.
Acteur: Roshdy Zem
d'origine franco-marocaine
Close enemies
Imdb 6.3 Durée: 1h 51min 2019 sur Prime Video (15)
A tense, nail-biting crime caper about brotherhood and betrayal. Raised in a suburb ridden by drug trafficking, Driss (Reda Kateb: Zero Dark Thirty) and Manuel (Matthias Schoenaerts: Red Sparrow) were like brothers. As adults, Manuel chose to embrace a thug life, while Driss became a cop. When Manuel's biggest deal goes horribly wrong, they realise their need for each other. Essential viewing!
Acteur: Reda Kateb
d'origine franco-algérienne

Objectives: to be able to use one's personal experience (in our case online courses) as a stimulus to produce one's own writing including
•Perfect tense and Imperfect
•Reuse the lexis
•Special attention will be given to organise the thinking with use of connectives.
Topic : B Education And Employment (Edexcel)
Sub-topic : School rules and pressures

Instructions

You have taken an online French course. You write a message (130-140 words) to tell
• your experience (duration of the course, technical quality, program, exchanges with other learners, with the teacher, etc.)
• And your impressions

Vous avez suivi un cours de français en ligne. Vous écrivez un message (130-140 mots) pour raconter
•votre expérience (durée du cours, qualité technique, programme, échanges avec d'autres apprenants, avec le professeur, etc.)
•Et vos impressions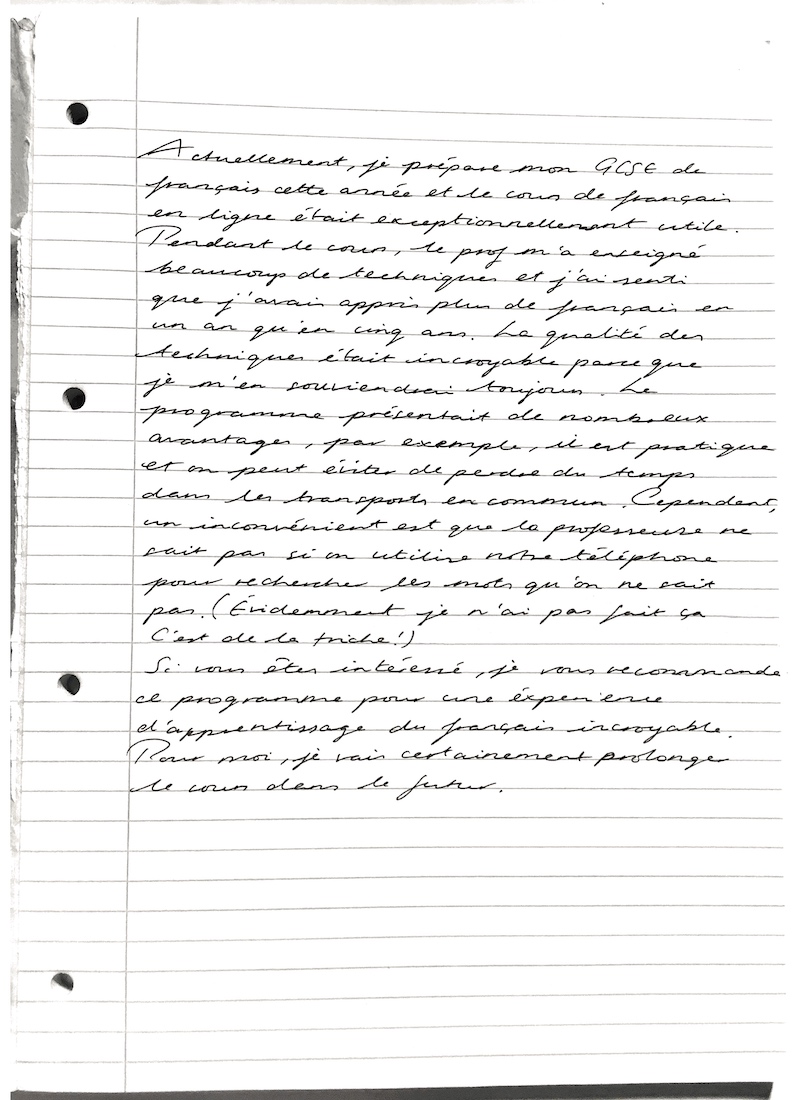 Written by Coco N.

Racontez une période de votre enfance
D'après la production écrite de Zoé voici un exercice de conjugaisons à l'imparfait.