Sunday, July 5, 2020
Frida Kahlo (1907-1954) était une peintresse mexicaine dont les oeuvres - principalement des auto-portraits - questionnent sur nos rapports à l'identité, le corps et la mort.
They thought I was a surrealist, but I wasn't. I never painted dreams. I painted my own reality"
Ses représentations sans complaisance de son propre corps - jeune, elle avait eu un accident causé par un tramway - et son style artistique inhabituel ont fait d'elle une icone féministe des temps modernes. Pour cet anniversaire de Frida Kahlo, regardez ces dessins d'élèves sur Instagram.
Le saviez vous ?
Frida était née le 6 juillet mais elle insistait pour avoir son anniversaire le 7 juillet car c'est aussi la date d'anniversaire de la révolution mexicaine.

Frida Kahlo (1907-1954) was a Mexican painter whose works - mainly self-portraits - question our relationships with identity, the body and death.
They thought I was a surrealist, but I wasn't. I never painted dreams. I painted my own reality "
Her uncompromising portrayals of her own body - young, she had a tramway accident - and her unusual artistic style have made her a modern feminist icon. For Frida Khalo's birthday, check out these student drawings on Instagram.
Did you know ?
Frida was born on July 6 but insisted on having her birthday on July 7 because it is also the anniversary of the Mexican Revolution.

Thursday, January 9, 2020
To help you have a good time listening to French while viewing A-Level related topics, I've listed here some movies you can watch on a popular streaming service: I named UK Amazon Prime video (films are Included with your Prime Membership if you are used to get packages delivered this way; So nothing to pay in addition).
Samba
Imdb 6.7 Durée: 1h 58min 2014 sur Prime Video (15)
Samba migrated to France ten years ago from Senegal, and has since been plugging away at various lowly jobs. Alice is a senior executive who has recently undergone a burn-out. Both struggle to get out of their dead-end lives. Samba's willing to do whatever it takes to get working papers, while Alice tries to get her life back on track until fate draws them together.
Acteur: Omar Sy
d'origine mauritanienne et sénégalaise
Les hommes du feu
update 19/01: not in Prime anymore
Imdb 6.1 Durée: 1h 33min 2017 sur Prime Video (15)
Philippe, runs a fire brigade barracks in the South of France. During a summer-long heatwave, blazing fires spark up all over the countryside, some more suspicious than others.
Acteur: Roshdy Zem
d'origine franco-marocaine
Close enemies
Imdb 6.3 Durée: 1h 51min 2019 sur Prime Video (15)
A tense, nail-biting crime caper about brotherhood and betrayal. Raised in a suburb ridden by drug trafficking, Driss (Reda Kateb: Zero Dark Thirty) and Manuel (Matthias Schoenaerts: Red Sparrow) were like brothers. As adults, Manuel chose to embrace a thug life, while Driss became a cop. When Manuel's biggest deal goes horribly wrong, they realise their need for each other. Essential viewing!
Acteur: Reda Kateb
d'origine franco-algérienne

Objectives: to be able to use one's personal experience (in our case online courses) as a stimulus to produce one's own writing including
•Perfect tense and Imperfect
•Reuse the lexis
•Special attention will be given to organise the thinking with use of connectives.
Topic : B Education And Employment (Edexcel)
Sub-topic : School rules and pressures

Instructions

You have taken an online French course. You write a message (130-140 words) to tell
• your experience (duration of the course, technical quality, program, exchanges with other learners, with the teacher, etc.)
• And your impressions

Vous avez suivi un cours de français en ligne. Vous écrivez un message (130-140 mots) pour raconter
•votre expérience (durée du cours, qualité technique, programme, échanges avec d'autres apprenants, avec le professeur, etc.)
•Et vos impressions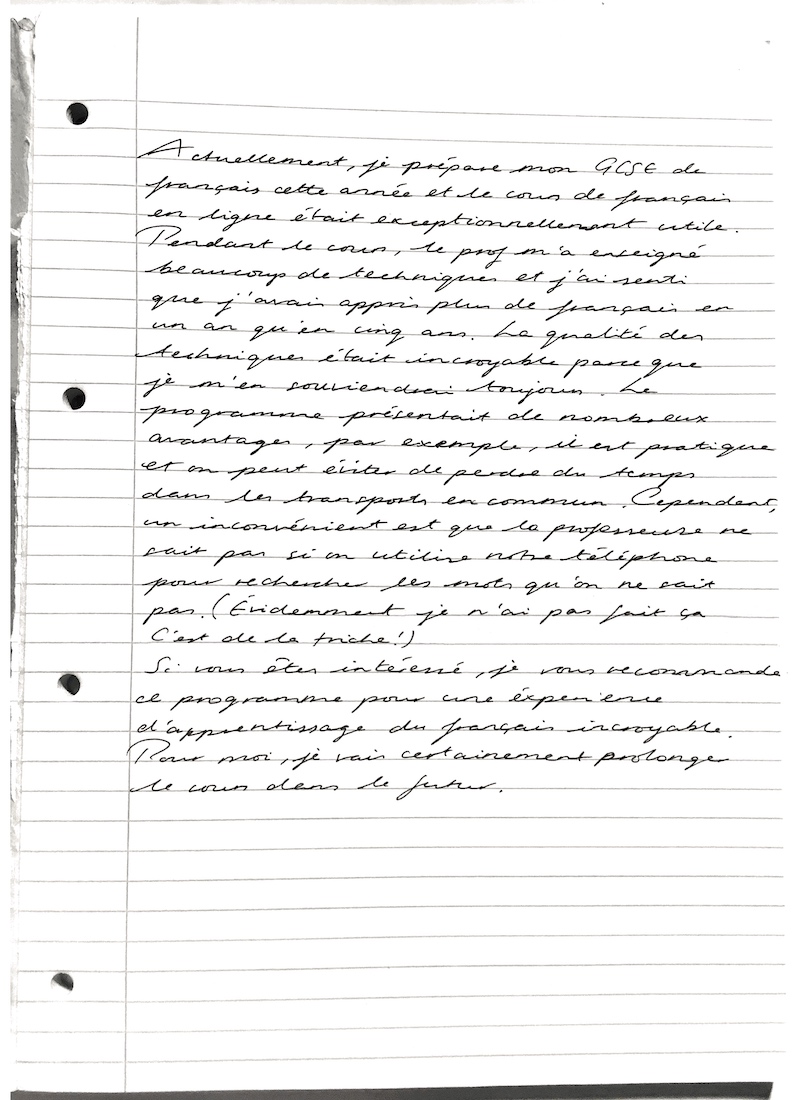 Written by Coco N.