Friday, January 24, 2020
L'armée du crime
Imdb 6.7 Durée: 2h 18min 2009 sur Prime Video (15)
⌦Leaving Prime on 07 February 2020

This is the untold story of one of the most notorious and feared group of the French resistance during WWII. The poet Missak Manouchian leads a mixed bag of youngsters and immigrants in a clandestine battle against the Nazi occupation. Twenty-two men and one woman fighting for an ideal and for freedom. News of their daring attacks, including the assassination of an SS general, eventually reaches Berlin.
Genres: Drama, History, War
Director Robert Guédiguian
Starring Virginie Ledoyen, Simon Abkarian, Robinson Stévenin
it pointedly disputes the idea of a unanimous French Resistance. Behind the scenes the Paris police, eager to impress the Nazis, supervise grisly tortures of suspected partisans. Pujol (Jean-Pierre Darroussin), an inspector in the neighborhood where the Resistance is centered, is emblematic of the double-dealing treachery of French officials in the Vichy government. Trucks containing Jewish deportees rumble through the streets and give pedestrians only a moment's pause.

Read the complete review on The New York Times
"Army of Crime," whose title alludes to Jean-Pierre Melville's 1969 masterpiece, "Army of Shadows" (set in the same period) […] also refers to the infamous "Affiche Rouge" (red poster) circulated by the Nazis on which the headline, "L'Armée du Crime" ("Army of Crime"), was plastered under the anti-fascist partisans' photographs.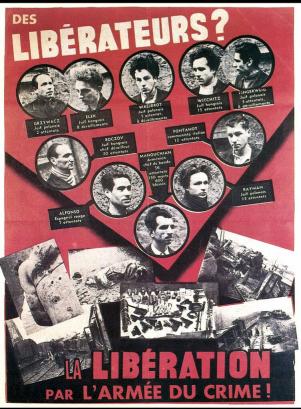 Posted by

marie

at 18:29:59 in Pre-U